A Few More Students Success Stories
Jamie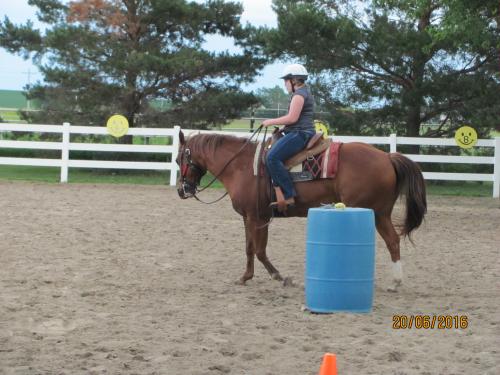 Jamie has been riding at S.M.I.L.E. for two years now. From the first lesson it was clear that Jamie had an unshakable bond with her horse Q. With the help of her instructor, Miranda, Jamie has learned how to help Q get dressed for every lesson. Since starting to ride Jamie's confidence has greatly improved which has helped her grow not only at home, but at school as well.
When Jamie started riding, she was always on the lead rope until she learned how to communicate with Q to get him to walk, turn, and stop. Once she got good a sense of control over Q, Miranda turned her loss in the arena. But Miranda stayed very close to Jamie and Q, and slowly but surely Jamie wanted more independence. This means she was able to ride Q, with complete control while Miranda instructed from the middle of the arena with a very attentive eye.
Jamie's mom says, "Every day at S.M.I.L.E. is a great day."
Larson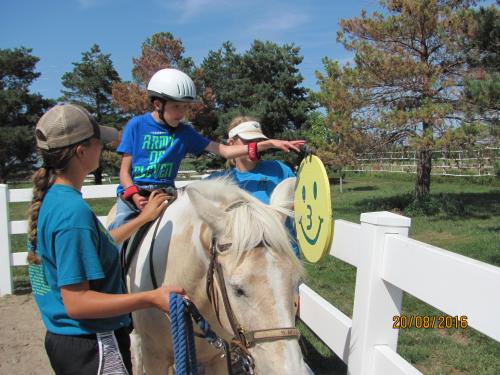 Larson has been riding with us for ten years now, and he absolutely loves it. When Larson started riding at S.M.I.L.E. he was wheeler chair bond. He was paired with a little pony named Sparky. Sparky became Larson's willing partner and during the lesson Larson would often sit up to laugh and smile.
Since Larson has gotten older and taller, he has been moved up to a horse named sugar who he loves. He has learned many skills over the years from brushing and taking care of his horse, to communicating with his riding instructor and helpers. Larson is now able to walk short distances with help and has the confidence to interact with others.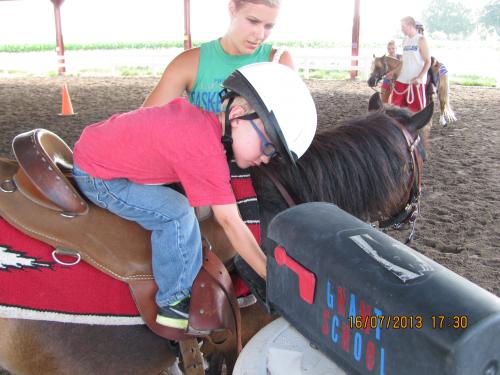 Here is Evan,
Evan has sensory issues. This means he doesn't like to touch different textures. Evan was also very shy and would become agitated when meeting new people and trying new things.
Towards the end of the summer Evan was taking different items with a range of textures from the mailbox. Evan is gaining selfconfidence and talking with other students and instuctors. Evan has bonded with Freddy the pony he rides. He is also very calm and relaxed at S.M.I.L.E.
"When we tell Evan he's going to ride the horses, his face lights up and he has a smile from ear to ear." From Evan's Mom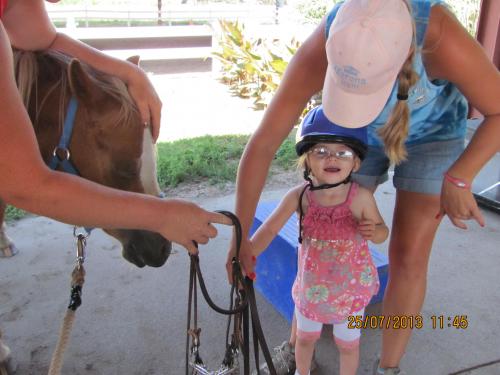 Here is Camdyn,
When other types of therapy didn't work for Camdyn her parents brought her out to S.M.I.L.E. Camdyn didn't like to touch or try new things, this also means she didn't want to walk.
Half way throught the riding season Camdyn was holding on to items such as a brush and other horse equipment. Camdyn was also standing by herself. By the end of the season Camdyn was walking from her horse, Cookie, to the tack shed and back.
"Camdyn at first didn't like to sit on grass but after the second lesson at S.M.I.L.E. I put her down on the grass and she loved it." from Camdyn's Mom.
Andrew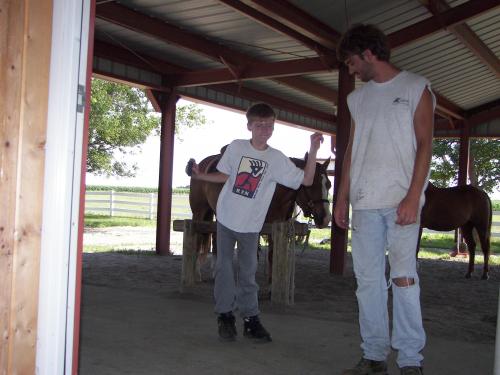 When Andrew started at S.M.I.L.E. Inc. he was 5 years old and needed a walker to get around. Andrew started on a pony using a bareback pad and needed help from two side walkers to hold him on. Over the years Andrew's speech has greatly improved from 1 word to full sentences. At age 15 Andrew (2011) was able to start walking on his own, he has also been riding by himself on his horse Q using a saddle under the watchful eye of his instructor (Andrew). Andrew continues to show improvements each year.
Ethan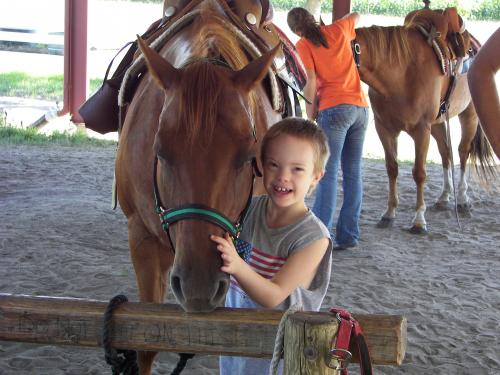 Ethan Started riding at 18 months old and usually fell asleep on his pony. In 2011 Ethan started riding his horse Katie by himself. His favorite part of the lesson is getting to ride in the tress and pick pinecones.
Robbie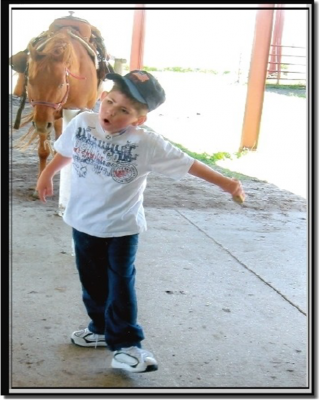 When Robbie was 3 he started riding at S.M.I.L.E. He started riding to improve his posture. Because of therapeuic horseback riding, Robbie has been able to avoid having back surgery to correct his spine. Robbie started with a stroller then used walker to get around. Robbie was 8 years old the summer he started walking by himself. At the start of the summer he would hold his instructor's hand in order to get his horse ready. Half way through the summer Robbie impressed us all when he let go of his instructor's hand and walked in to the tack shed all on his own. Way To Go Robbie :)
Cora
Our family can't thank you enough for your contributions to S.M.I.L.E. Our daughter Cora has a bone disease which causes tumors to grow from her joins or basically any bone. At the moment she has over a half dozen visible on x-ray. She is only four years old, five in September. It's possible she will need multiple operations over the course of her life. This program has already been so great for her. From the first time she saw a horse, she fell in love with them. She loves riding Buttermilk! S.M.I.L.E gives her an opportunity to not only do something she loves but to take her mind off of any pain or discomfort she may be feeling.
Patty not only lets her ride horses but teaches her how to follow directions, step by step, how to get the horse ready, how to lead the horse, and still to have fun! Cora looks so natural and comfortable on the horse. Her confidence has already grown so much this summer. So much so that when her brothers decided they wanted to ride also, she helped her older brother come out from hiding behind me to get started on his own horse. Cora has also learned leadership and independence. S.M.I.L.E. is a very valuable asset and one we wouldn't be able to take part in if it was not supported by all of you! We thank you very much!!
- Alden, Katie, Cody, Huntley, Cora
Kinsley
Our family is very grateful for the supporters that have allowed Kinsley this opportunity.
Before Kinsley started riding therapy, she had low self-esteem. She wanted to try things but would usually talk herself out of them due to the fear of not doing it perfect or getting hurt. We tried gymnastics to help with focus and core strength but the lessons ended with her in tears when she was unable to do what the other kids were doing. Since she has started riding at S.M.I.L.E she focuses on her task and seems very confident. I was shocked to see her have the confidence to ride and even trot "Buttermilk" without someone leading her. Previously, she would have cried and been so nervous to ride alone for fear that she would fall off.
Kinsley lights up when she sees her horse "Buttermilk" and her teachers. Kinsley missed one lesson due to us taking a trip, she suggested maybe she could just ride "Buttermilk" on the trip. Patty and her staff have been wonderful and always so understanding with Kinsley no matter during a lesson or at a public location.
Kinsley looks forward to riding and taking care of "Buttermilk" ever week.
Thank you for supporting this incredible program that gives these kids such an amazing opportunity and experience.
- Katie Reeves