An Inspiration for us all
Karla Dohmen spends her summers riding at S.M.I.L.E.
By Mary Potmesil
For the past 24 years, Karla Dohmen, of Newman Grove, has been spending her summers, from May-September, riding at S.M.LL.E. Inc. just off of Highway 121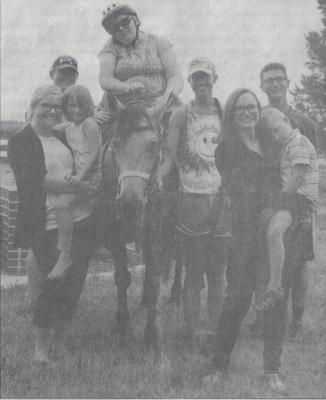 heading toward Battle Creek. S.M.LL.E, which stands for Stephanie's Miracles in Loving Equine, provides therapeutic horseback riding for special needs children and adults in Northeast Nebraska.
She started taking part in S.M.LL.E. when her aunt, Kay Anderson, found out about the facility and told Karla's mother, Martha.According to Barb Dohmen, Karla's oldest daughter, "It was mostly my grandparents believing in Mom and seeing that this could be good for her and take the risk even when everyone asked how are you going to get someone in a wheelchair on a horse?
Photo by Mary Potmesil, Newman Grove Reporter Back row, left to right, April Osborn, Karla Dohmen Conner Kramer. Front row:Barbara Dohmen,Videl Wheatley Carmell (horse), Kate Asmus, Heather Dohmen, Nolan Wheatley.
Dohmen said even though Karla has been bound to a wheelchair for years, she has always been a great influence on her daughters and grandchildren because she believes no matter what life deals you, stay positive and to never give up.
Karla has been a resident of the Mid-Nebraska Lutheran Home since February 1992 after an accident left her with severe head injuries. Karla, along with many others with disabilities, have benefited greatly from the therapeutic horseback riding.
Patty Prauner, founder of S.M.LL.E. Inc. said, "That body movement while riding a horse is very similar to the way people walk. In Karla's case, while riding Carmell, the horse assigned to Karla, she gets quite the workout. She has to sit up straight, which works on posture and balance, use her legs muscles to help herself stay in the saddle, and the muscles in her arms get stretched and used through controlling the horse with the reins.
When Karla arrives at S.M.LL.E. she, with the help of volunteers, brushes Carmell, helps tighten the cinch on the saddle and helps put her bridle on. This helps Karla improve her hand-eye coordination and gives her a sense of responsibility and a bonding time with Carmell. She rides for 20-30 minutes a session.
Karla is treated like everyone else, which helps with her independence and she enjoys the challenges given to her each week. Carmell looks forward to seeing Karla as well. Patty says that the horses look forward to seeing their riders just as much as the students enjoy seeing the horses each week. Some childernwho come to S.M.LL.E have trouble talking, but these same children open up right away for a horse.
"This is the miracle of the program, God works through all of us, and every person is put on a path for a reason. I feel that it is easy to understand how this is God's program. He is keeping it alive through the volunteers that come to S.M.LL.E. to help others. For students at S.M.LL.E., it is more than a pony ride, it is a ride with God," Prauner said. S.M.LL.E. Inc. started in 1992 with nine students and now has around 135 students per week with a wide range of special needs. They currently have 17 head horses and ponies.
S.M.LL.E. lessons are $20 each.
S.M.I.L.E. manages to care for the horses and continue operating through donations and volunteers. "I don't want anyone to miss out on an opportunity like this because they cannot afford it. These families have enough expenses as it is,"Prauner said.
Anyone who would like to help S.M.I.L.E. Inc. may call Prauner at (402) 675-8462 for more information on the organization and how to help the students to keep riding.
"Remember, the outside of a horse is good for the inside of a person," she said
Posted on: Monday, July 31, 2017