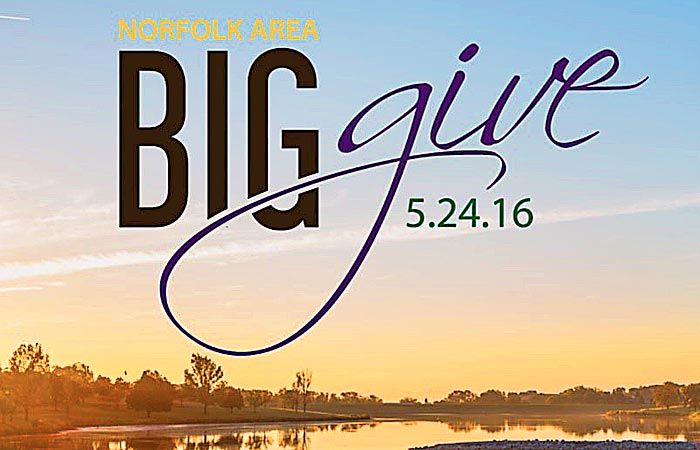 It's more than just giving.
The Norfolk Area Big Give — slated for Tuesday, May 24 — is about matching the passions of the public with the city's nonprofit agencies.
Hosted by the Northeast Nebraska Philanthropy Council, the inaugural Big Give is a 24-hour event in which people may donate to 31 designated nonprofits.
"We are encouraging you to donate to your favorite charity, but really to educate yourself on what other nonprofits are doing in the community because we have a very robust nonprofit sector," said Anders Olson, chairman of Big Give.
He called the event a "friendraiser," rather than a "fundraiser."
"We're hoping to engage people who wouldn't normally make donations just to emphasize that culture of donating. A $5 donation can make as much of an impact as a $5,000 gift," Olson said. "It's all about that culture of giving, the process of giving."
Beginning at midnight May 24, the public may begin donating to Big Give by visiting norfolkareabiggive.org. Each organization will have a profile page, describing the project the donations will go toward. The projects fall under one of these six categories — education, youth and recreation, arts and culture, community development, health and humanitarian aid.
Olson said those donating online may select up to 10 nonprofits at a time before checking out. The funds then will be donated directly to that organization.
There also will be three giving stations set up throughout Norfolk for people who prefer to write a check or donate cash in person. Olson said the sites have yet to be determined and will be announced later.
Throughout the day of the Big Give, some of the nonprofits will be hosting events to celebrate the effort, including giving out ice cream sundaes and lemonade and having a picnic.
"Everyone is very excited about this day coming up," Olson said.
Olson said he's hopeful the event will be successful because Norfolk has a long history of being a giving community.
"We've done a lot of research on what other communities our size have done throughout the state, and it really varies. Some communities our size will raise $70,000; others will raise $700,000," Olson said. "So we're not sure on the spectrum where we will fall, but we feel like we have a really good product, and we're excited to share it with everyone and give them an opportunity to give back."
* * *
Want to learn more?
For more information, visit norfolkareabiggive.org.
© 2016 The Norfolk Daily News . All rights reserved. This material may not be published, broadcast, rewritten or redistributed.